Best Wedding Songs
Top 200 Wedding Hits
It's time to craft the best wedding music playlist for your wedding. We cover the Top 200 Wedding Music Hits that will get your guests out on the dance floor! These are songs span generations and can be enjoyed by everyone. Slow dances, party hits, you name it!
Here are the Top 200 Wedding Music Hits to keep your guests on the dance floor all night!
Quick Search -Table of Contents:
Top 200 Spotify Playlist Player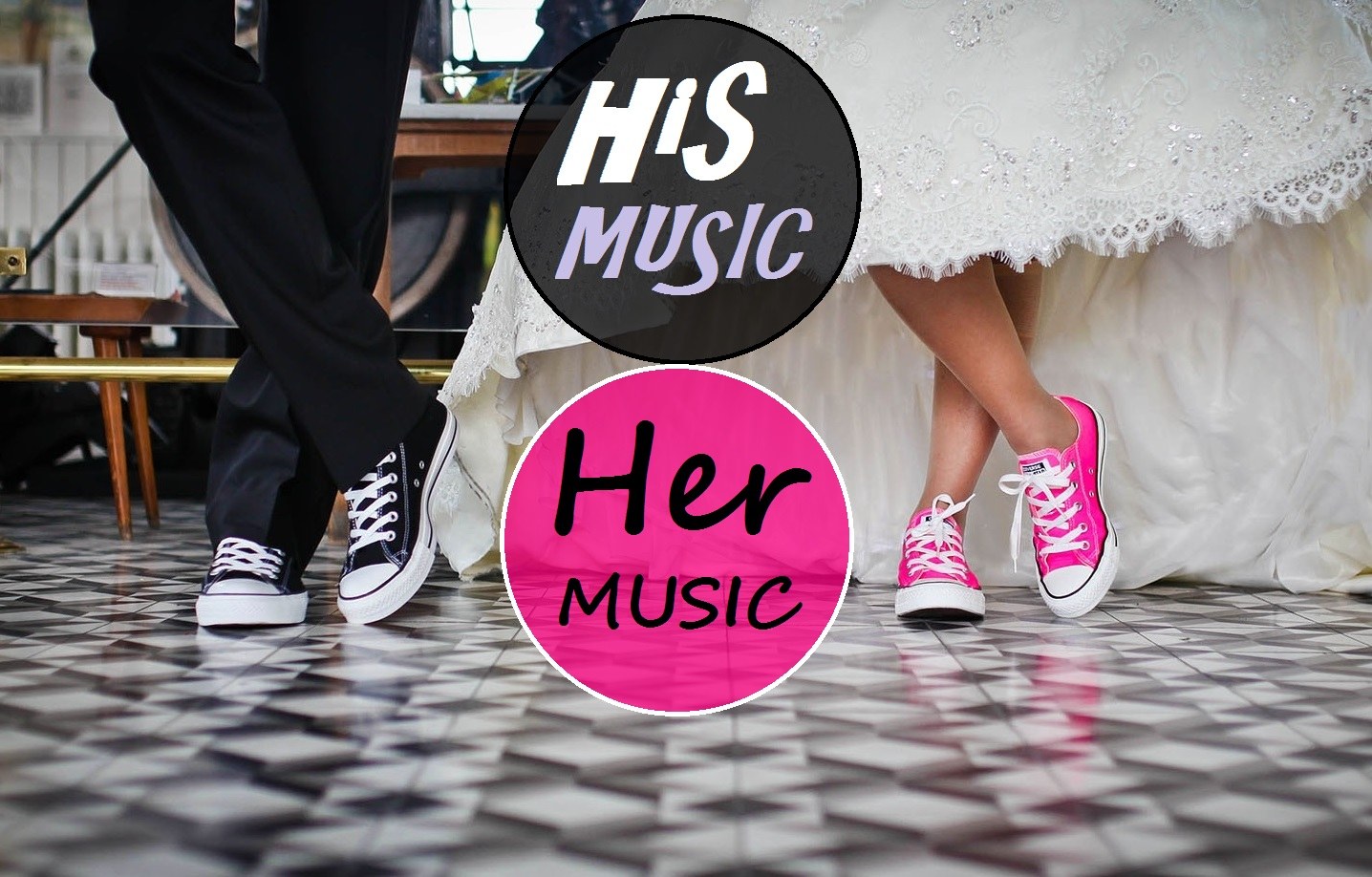 Top 200 Wedding Hits - Spotify
Best Wedding Music - Top 200
1 MARK RONSON FEAT. BRUNO MARS UPTOWN FUNK
2 WHITNEY HOUSTON I WANNA DANCE WITH SOMEBODY (WHO LOVES ME)
3 JOURNEY DON'T STOP BELIEVIN'
4 JUSTIN TIMBERLAKE CAN'T STOP THE FEELING!
5 WALK THE MOON SHUT UP AND DANCE
6 NEIL DIAMOND SWEET CAROLINE
7 CUPID CUPID SHUFFLE
8 ED SHEERAN THINKING OUT LOUD
9 USHER YEAH!
10 V.I.C. WOBBLE
11 DJ CASPER CHA CHA SLIDE
12 BLACK EYED PEAS I GOTTA FEELING
13 PHARRELL WILLIAMS HAPPY
14 TAYLOR SWIFT SHAKE IT OFF
15 BON JOVI LIVIN' ON A PRAYER
16 BRUNO MARS MARRY YOU
17 EARTH, WIND AND FIRE SEPTEMBER
18 BRUNO MARS 24K MAGIC
19 VAN MORRISON BROWN EYED GIRL
20 GARTH BROOKS FRIENDS IN LOW PLACES
21 LUIS FONSI FEAT. DADDY YANKEE DESPACITO
22 KENNY LOGGINS FOOTLOOSE
23 B-52'S LOVE SHACK
24 OUTKAST HEY YA!
25 BACKSTREET BOYS EVERYBODY (BACKSTREET'S BACK)
26 RIHANNA FEAT. CALVIN HARRIS WE FOUND LOVE
27 JOHN LEGEND ALL OF ME
28 AC/DC YOU SHOOK ME ALL NIGHT LONG
29 BEATLES TWIST AND SHOUT
30 MAROON 5 SUGAR
31 SPICE GIRLS WANNABE
32 R. KELLY IGNITION (REMIX)
33 ELVIS PRESLEY CAN'T HELP FALLING IN LOVE
34 LMFAO PARTY ROCK ANTHEM
35 ANIMAL HOUSE SHOUT
36 FRANK SINATRA THE WAY YOU LOOK TONIGHT
37 BEYONCE FEAT. JAY-Z CRAZY IN LOVE
38 MICHAEL JACKSON BILLIE JEAN
39 FLO RIDA LOW
40 MONTELL JORDAN THIS IS HOW WE DO IT
41 TEMPTATIONS MY GIRL
42 BEYONCE SINGLE LADIES (PUT A RING ON IT)
43 ED SHEERAN SHAPE OF YOU
44 SIR MIX-A-LOT BABY GOT BACK
45 ROBIN THICKE FEAT. PHARRELL & T.I. BLURRED LINES
46 ABBA DANCING QUEEN
47 MILEY CYRUS PARTY IN THE U.S.A.
48 OLD CROW MEDICINE SHOW WAGON WHEEL
49 SISTER SLEDGE WE ARE FAMILY
50 DJ SNAKE FEAT. LIL' JON TURN DOWN FOR WHAT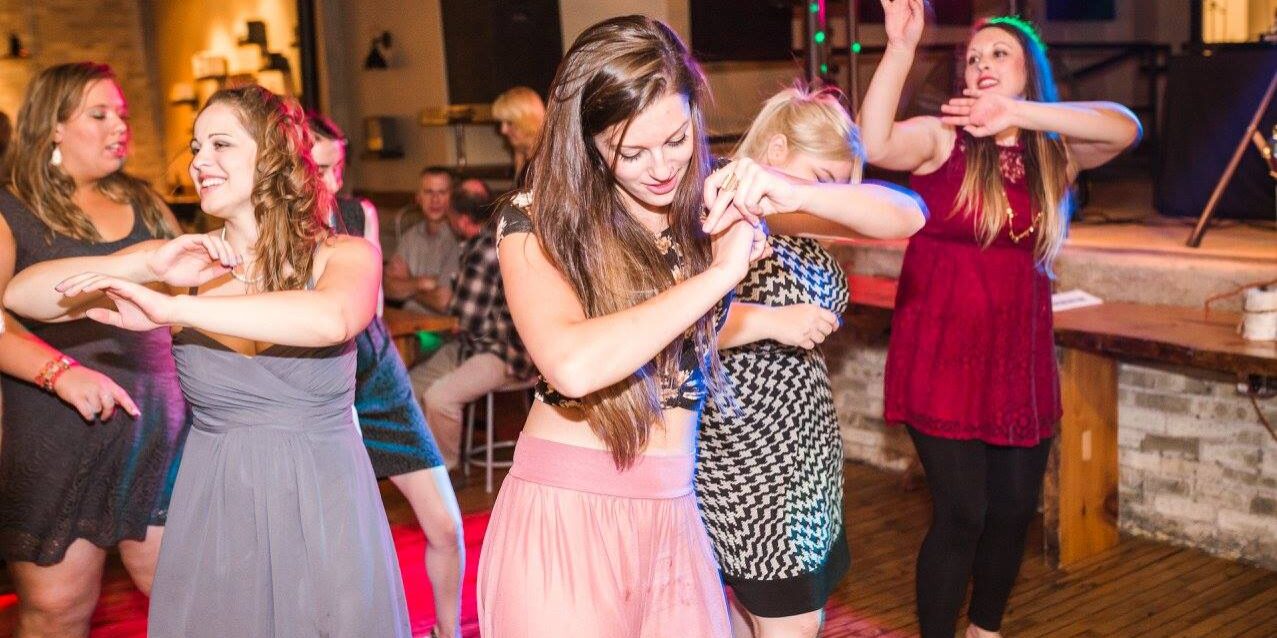 Best Wedding Music #51 and up
51 BRYAN ADAMS SUMMER OF '69
52 MICHAEL JACKSON DON'T STOP TIL YOU GET ENOUGH
53 HOUSE OF PAIN JUMP AROUND
54 PITBULL FEAT. KESHA TIMBER
55 JUSTIN TIMBERLAKE SEXYBACK
56 KILLERS MR. BRIGHTSIDE
57 DEXYS MIDNIGHT RUNNERS COME ON EILEEN
58 LIL JON & THE EASTSIDE BOYZ GET LOW
59 KOOL & THE GANG CELEBRATION
60 DON OMAR FEAT. LUCENZO DANZA KUDURO
61 BRUNO MARS THAT'S WHAT I LIKE
62 MAROON 5 MOVES LIKE JAGGER
63 DEF LEPPARD POUR SOME SUGAR ON ME
64 THOMAS RHETT DIE A HAPPY MAN
65 VILLAGE PEOPLE Y.M.C.A.
66 FOUNDATIONS BUILD ME UP BUTTERCUP
67 LYNYRD SKYNYRD SWEET HOME ALABAMA
68 NELLY HOT IN HERRE
69 COBRA STARSHIP YOU MAKE ME FEEL
70 ERIC CLAPTON WONDERFUL TONIGHT
71 CHRIS BROWN FOREVER
72 CHRISTINA PERRI A THOUSAND YEARS
73 PITBULL FEAT. NE-YO, AFROJACK & NAYER GIVE ME EVERYTHING
74 LADY GAGA JUST DANCE
75 WILD CHERRY PLAY THAT FUNKY MUSIC
76 ETTA JAMES AT LAST
77 DNCE CAKE BY THE OCEAN
78 CYNDI LAUPER GIRLS JUST WANT TO HAVE FUN
79 REDNEX COTTON EYE JOE
80 DAFT PUNK GET LUCKY
81 N'SYNC BYE BYE BYE
82 SALT 'N PEPA PUSH IT
83 STEVIE WONDER SIGNED, SEALED, DELIVERED (I'M YOURS)
84 BEN E. KING STAND BY ME
85 BLACKSTREET NO DIGGITY
86 BRUNO MARS JUST THE WAY YOU ARE
87 SMASH MOUTH ALL STAR
88 TRAIN MARRY ME
89 LOS DEL RIO MACARENA
90 MICHAEL JACKSON THRILLER
91 QUEEN BOHEMIAN RHAPSODY
92 VANILLA ICE ICE ICE BABY
93 LUKE BRYAN COUNTRY GIRL (SHAKE IT FOR ME)
94 ZAC BROWN BAND CHICKEN FRIED
95 OMI CHEERLEADER
96 KANYE WEST GOLD DIGGER
97 LMFAO SEXY AND I KNOW IT
98 PINK RAISE YOUR GLASS
99 SILENTO WATCH ME (WHIP/NAE NAE)
100 NE-YO CLOSER
Best Wedding Music - 100 & up
101 BOB SEGER OLD TIME ROCK N ROLL
102 DRAKE ONE DANCE
103 LOUIS ARMSTRONG WHAT A WONDERFUL WORLD
104 PITBULL FIREBALL
105 JASON MRAZ I'M YOURS
106 CARLY RAE JEPSEN CALL ME MAYBE
107 TOPLOADER DANCING IN THE MOONLIGHT
108 RICK SPRINGFIELD JESSIE'S GIRL
109 GUNS N' ROSES SWEET CHILD O' MINE
110 AEROSMITH I DON'T WANT TO MISS A THING
111 DARYL HALL & JOHN OATES YOU MAKE MY DREAMS
112 JUSTIN BIEBER SORRY
113 BEE GEES STAYIN' ALIVE
114 LUMINEERS HO HEY
115 M.C. HAMMER U CAN'T TOUCH THIS
116 BILL MEDLEY & JENNIFER WARNES (I'VE HAD) THE TIME OF MY LIFE
117 MICHAEL BUBLE EVERYTHING
118 SIA CHEAP THRILLS
119 MEGHAN TRAINOR ALL ABOUT THAT BASS
120 SHAKIRA HIPS DON'T LIE
121 PROCLAIMERS I'M GONNA BE (500 MILES)
122 KINGS OF LEON SEX ON FIRE
123 OASIS WONDERWALL
124 RICK ASTLEY NEVER GONNA GIVE YOU UP
125 FLO RIDA MY HOUSE
126 THE WEEKND CAN'T FEEL MY FACE
127 JACK JOHNSON BETTER TOGETHER
128 CALVIN HARRIS FEAT. RIHANNA THIS IS WHAT YOU CAME FOR
129 RAY LAMONTAGNE YOU ARE THE BEST THING
130 JOHN TRAVOLTA & OLIVIA NEWTON-JOHN GREASE MEGAMIX
131 JUSTIN TIMBERLAKE ROCK YOUR BODY
132 NAT KING COLE UNFORGETTABLE
133 QUEEN CRAZY LITTLE THING CALLED LOVE
134 BILLY JOEL PIANO MAN
135 FRANK SINATRA FLY ME TO THE MOON
136 JAMES TAYLOR HOW SWEET IT IS (TO BE LOVED BY YOU)
137 BIG & RICH SAVE A HORSE (RIDE A COWBOY)
138 JAMES ARTHUR SAY YOU WON'T LET GO
139 STEVIE WONDER SUPERSTITION
140 BEYONCE LOVE ON TOP
141 AL GREEN LET'S STAY TOGETHER
142 PSY GANGAM STYLE
143 USHER DJ GOT US FALLIN' IN LOVE
144 LMFAO FEAT. LIL JON SHOTS
145 COMMODORES BRICK HOUSE
146 FRANKI VALLI CAN'T TAKE MY EYES OFF YOU
147 NAT KING COLE L-O-V-E
148 FLORIDA GEORGIA LINE CRUISE
149 CALVIN HARRIS FEEL SO CLOSE
Best Wedding Hits | 150-200
150 LONESTAR AMAZED
151 BRUNO MARS TREASURE
152 EDDIE MONEY TAKE ME HOME TONIGHT
153 QUEEN DON'T STOP ME NOW
154 TAIO CRUZ DYNAMITE
155 RIGHTEOUS BROTHERS UNCHAINED MELODY
156 GINUWINE PONY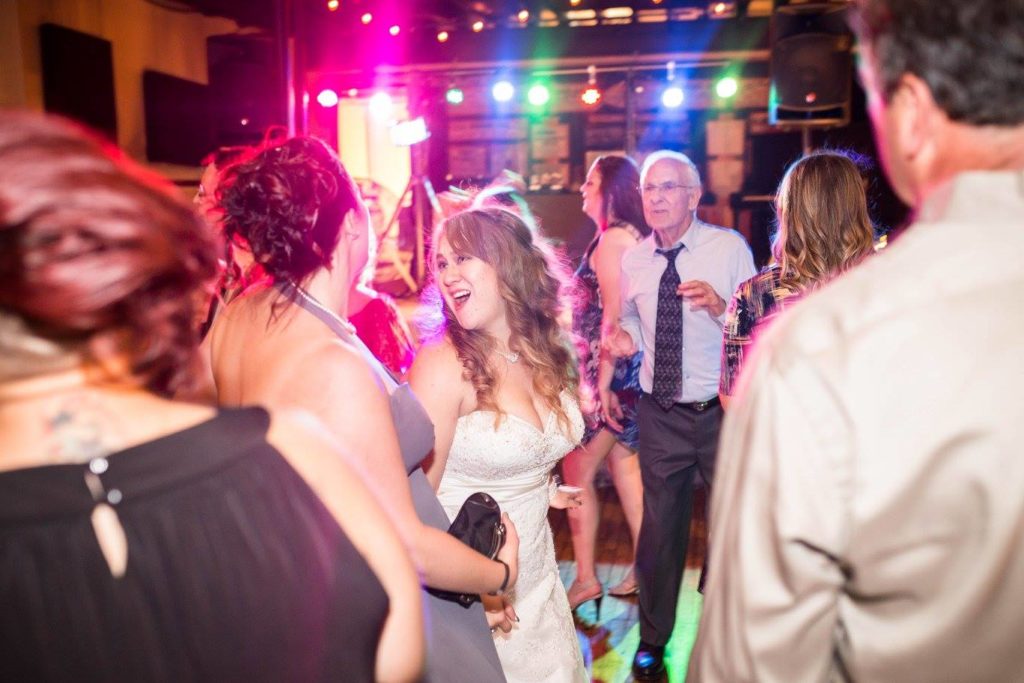 157 MICHAEL JACKSON BEAT IT
158 PITBULL AND NE-YO TIME OF OUR LIVES
159 KATY PERRY FIREWORK
160 JACKSON 5 ABC
161 MARCIA GRIFFITHS ELECTRIC BOOGIE (ELECTRIC SLIDE)
162 PRINCE KISS
163 ARETHA FRANKLIN RESPECT
164 BACKSTREET BOYS I WANT IT THAT WAY
165 RIHANNA DON'T STOP THE MUSIC
166 AVICII WAKE ME UP!
167 SAM HUNT BODY LIKE A BACK ROAD
168 FETTY WAP TRAP QUEEN
169 SARA EVANS PERFECT
170 CHUBBY CHECKER THE TWIST
171 CHAINSMOKERS AND COLDPLAY SOMETHING JUST LIKE THIS
172 A-HA TAKE ON ME
173 50 CENT IN DA CLUB
174 BLAKE SHELTON GOD GAVE ME YOU
175 K-CI & JOJO ALL MY LIFE
176 HADDAWAY WHAT IS LOVE
177 SUPREMES YOU CAN'T HURRY LOVE
178 BELL BIV DEVOE POISON
179 JASON DERULO WANT TO WANT ME
180 FLO RIDA CLUB CAN'T HANDLE ME
181 MARK RONSON FEAT. AMY WINEHOUSE VALERIE
182 DAVID GUETTA FEAT. SIA TITANIUM
183 DAFT PUNK ONE MORE TIME
184 MAJOR LAZER AND DJ SNAKE AND MO LEAN ON
185 CHRIS STAPLETON TENNESSEE WHISKEY
186 YOUNG M.C. BUST A MOVE
187 ONE DIRECTION WHAT MAKES YOU BEAUTIFUL
188 JESSIE J, ARIANA GRANDE, AND NICKI MINAJ BANG BANG
189 NICKI MINAJ STARSHIPS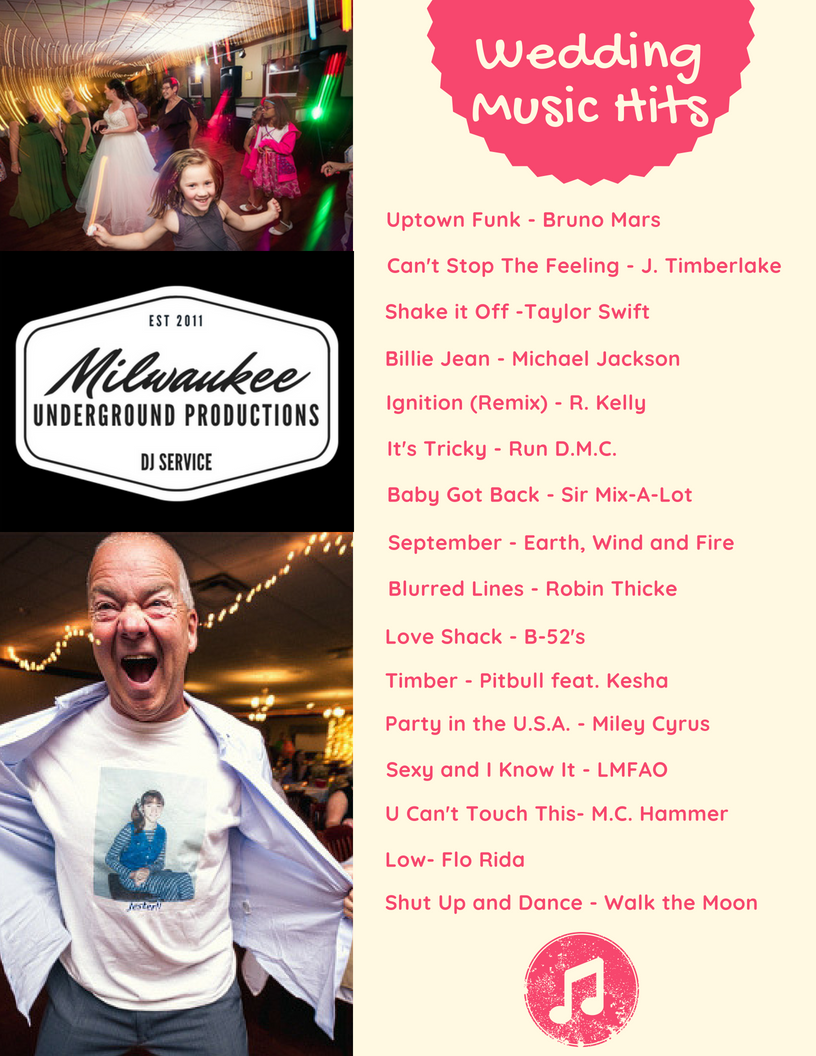 190 MACKLEMORE & RYAN LEWIS FEAT. WANZ THRIFT SHOP
191 ELTON JOHN YOUR SONG
192 AVICII LEVELS
193 K.C AND THE SUNSHINE BAND GET DOWN TONIGHT
194 WHAM! WAKE ME UP BEFORE YOU GO-GO
195 BRETT YOUNG IN CASE YOU DIDN'T KNOW
196 DRAKE HOTLINE BLING
197 SNAP! RHYTHM IS A DANCER
198 NATALIE COLE THIS WILL BE (AN EVERLASTING LOVE)
199 LADY GAGA POKER FACE
200 CREEDENCE CLEARWATER REVIVAL / TINA TURNER PROUD MARY
8 years ago I decided to use my customer service and passion for music to help couples have a better Wedding DJ experience.
Now, we have a team of Wedding DJ's and Photo Booths to help make your wedding day perfect.
Get in touch for a custom quote!
Contact Us