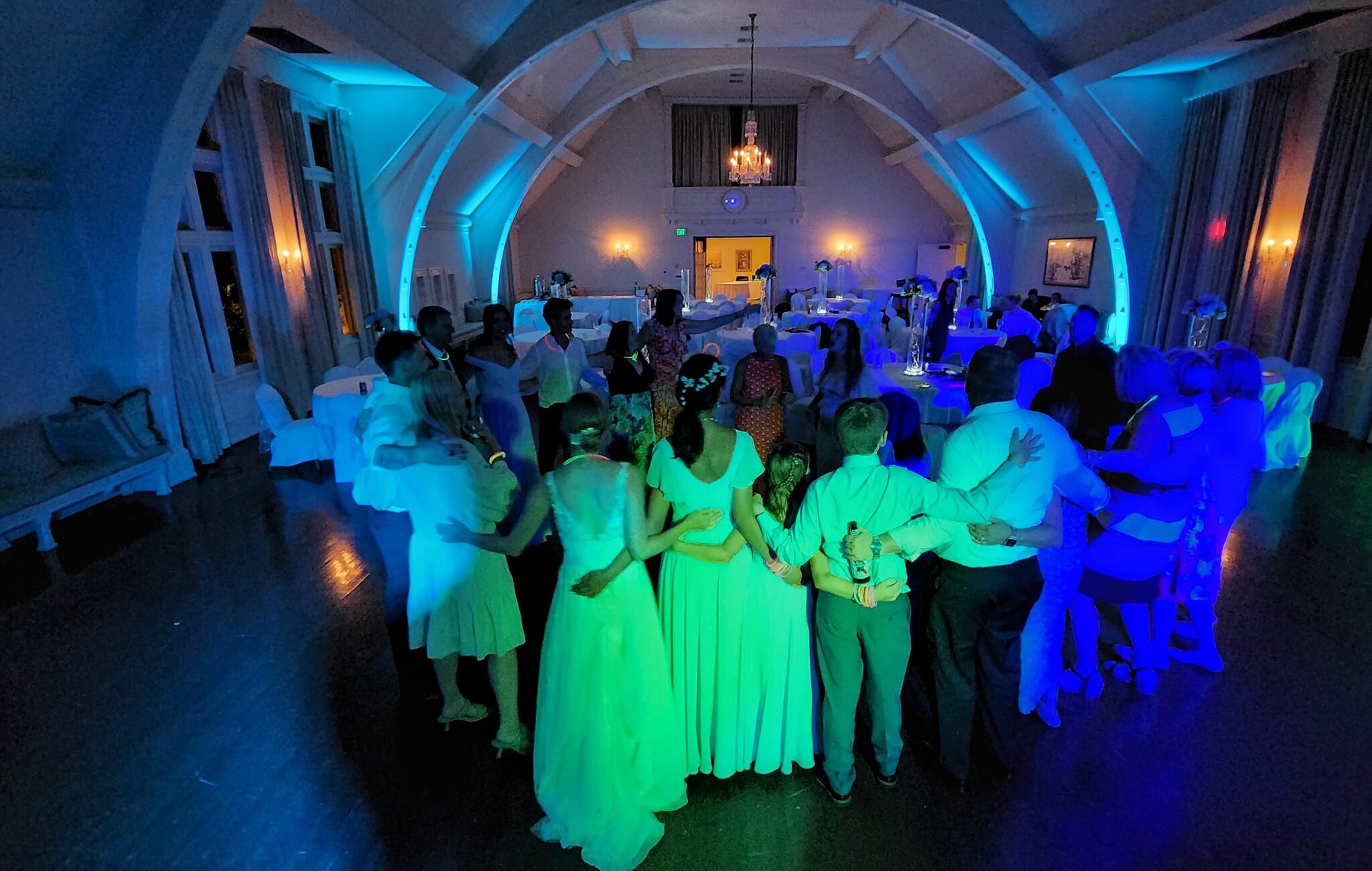 Tips for Selecting the Perfect Wedding DJ
Are you getting married and looking for the perfect Wedding DJ to make the night one to remember? A Wedding DJ can make or break the atmosphere of the evening, so it's important to select one who will match the vibes you want for your special day. Investing the necessary time and energy into the research and selection process will ensure that the music on the night-of is the perfect soundtrack to your wedding celebration.
This blog post will provide tips and advice to ensure you pick the perfect wedding DJ for your special day. We will discuss the importance of researching your options, asking about pricing, and how to get the best out of the DJ on the night of your wedding. Here are some tips for selecting the perfect wedding DJ:
Research Your Options: Before you start hiring, do your research. Ask friends and family for recommendations and read online reviews. Does your wedding venue recommend any DJs that have been there before? Also, look at DJ profiles and portfolios to get a feel for their styles and find out whether they have experience playing at weddings.
Where to search for a DJ?
Wedding directories like Wedding Wire and The Knot have a large selection of wedding vendors to browse through. You can also perform a quick Google Search for Wedding DJ's. Platforms will typically have a review section for you to get a glimpse of what other couples have to say about their experience with a particular wedding vendor.
Ask your Venue or Family and Friends
Ask your wedding venue if they have any "preferred vendors" or recommendations. They have seen DJs of all different types, and since they know you as a couple already, they can help suggest a few DJ Companies that align with your style. Having a DJ with proven experience at a particular venue can help ease the stress of wedding day planning with your DJ. This is a great way for selecting the Perfect Wedding DJ for your special day.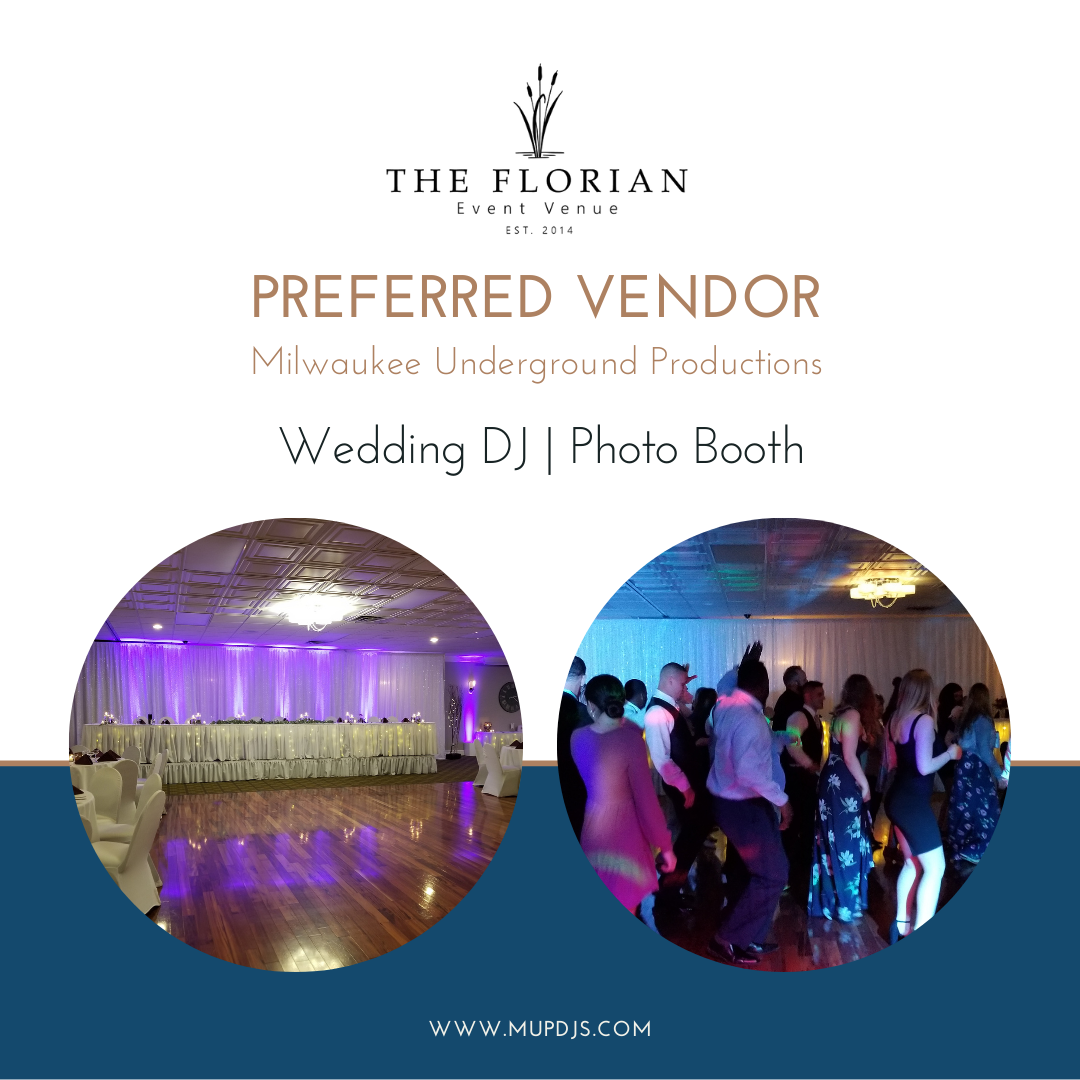 Read the Reviews!
What do the reviews say about their customer service, responsiveness and professionalism? If it's a DJ Company, do they mention a great DJ by name? As you read more reviews, you'll find that certain DJ's and companies align with what you want out of the night.
It's important that you feel comfortable with the DJ you choose and that you feel confident they will be able to provide the right atmosphere and music for your wedding day.
Look for awards!
Have they earned any awards? DJ Companies that have been around for awhile will start getting recognized for their hard work and experience. These DJ's will be in higher demand, but if you book in advance, you can lock-in the right DJ Service with plenty of time to spare. When selecting the perfect Wedding DJ, Don't Delay! We recommend booking your DJ 9-12 months in advance or more for a larger selection of available DJ's.
MUP DJ's has earned The Knot's Best of Weddings Award 4 years in a row, and Best of Weddings Hall of Fame winner. With over 75 (5-star) reviews, you can feel confident hiring a company like Milwaukee Underground Productions.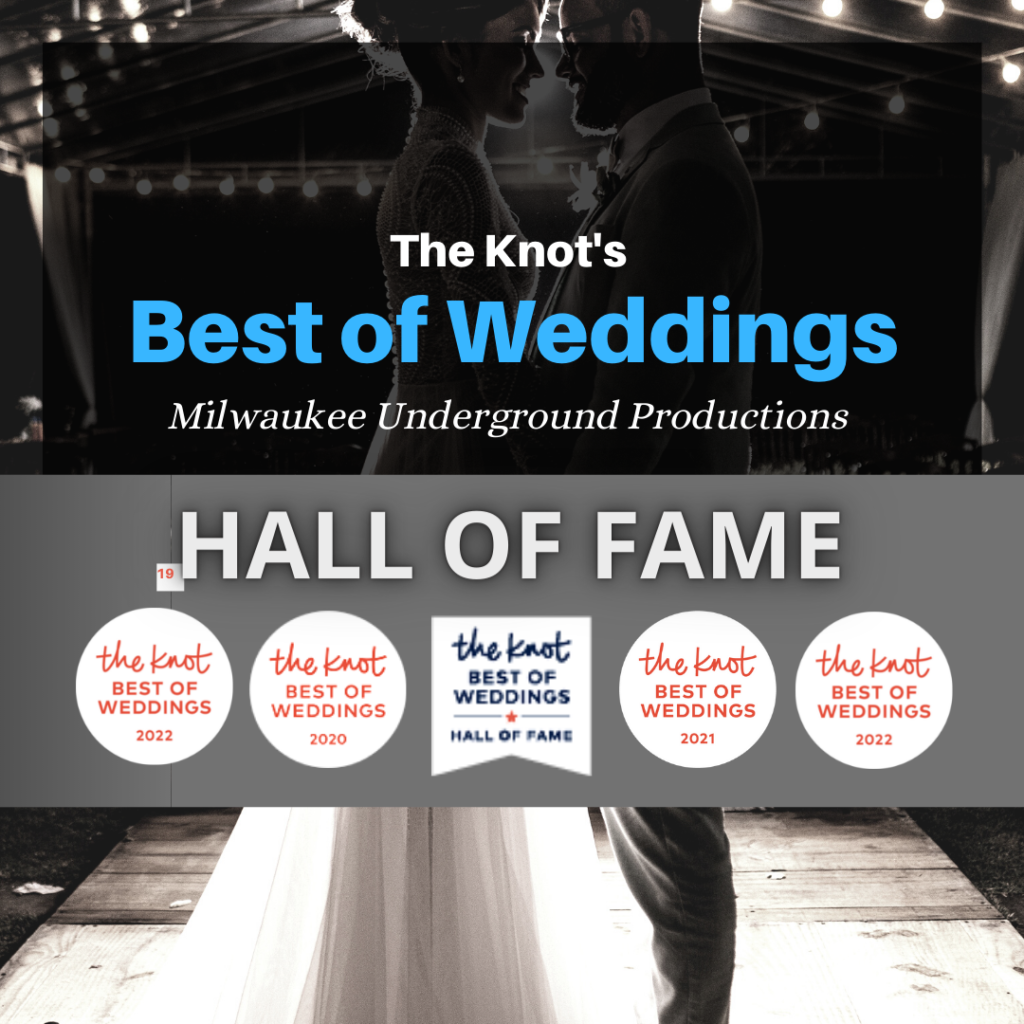 2. Ask about pricing (and what's included)
Every DJ Company has different pricing options, and the price can vary based on hours of music, venue, location, equipment included, event date and more. DJ's with more experience could cost more money, but they can ensure everything runs more smoothly the night of your wedding.
Knowing what is or isn't included can ensure expectations are met and that you have all of your bases covered. It's also helpful if the DJ has transparent pricing. This way, you'll know what to expect if extra hours or equipment are needed.
Wireless Microphone, Dance Floor Lighting, Song Requests, Custom Music, MC Service and Sound System should be the minimum package offered by any DJ Company.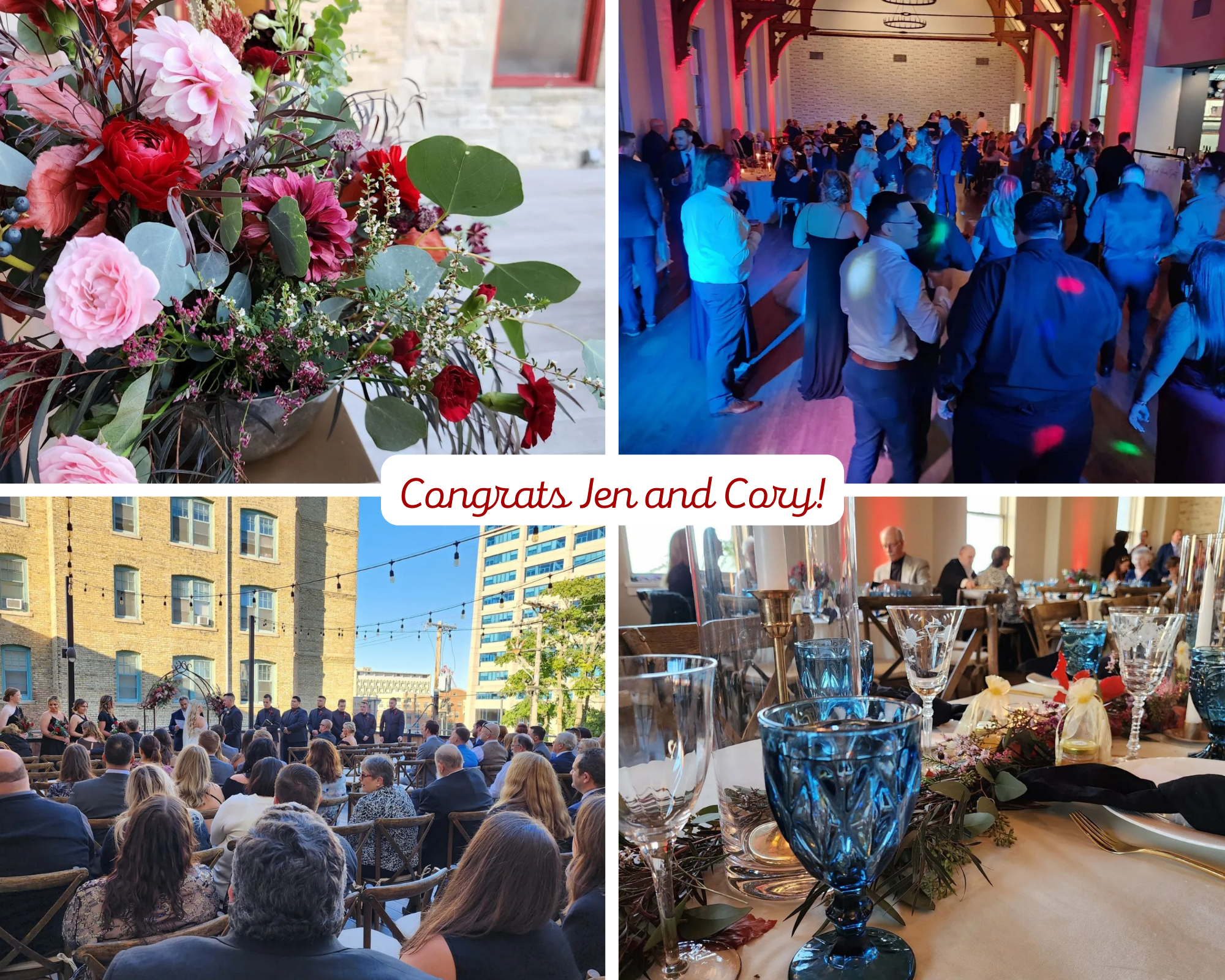 3. Get the Most out of Your DJ
Finally, make sure to communicate! Sharing things like the timeline of events, special announcements, or any specific songs or requests beforehand can help the DJ meet and exceed your expectations. This will give your DJ the time needed to get to know your wants and needs, and figure out the best ways to incorporate them into the wedding timeline and playlist.
This may sound like advice for after you already booked a DJ. But the truth is, even the most experienced and amazing DJ's could underperform without proper communication. DJ's usually spend 4-8 hours planning and practicing, before they even travel to your wedding venue. From a touch-base video chat, music preparation, timeline run through, pronunciation practice; these are just a few ways a DJ prepares for your special day.
The Wedding Timeline
The Wedding Timeline is also an important piece for the "flow" of your wedding. All of your wedding vendors (DJ, Caterer, Photographer, Videographer, Coordinator, etc.) will work together before and during your wedding to ensure the proper timing and placement of certain events.
Ask your DJ for their Template or Form
The template provided from your DJ should ask all the questions needed for them to give a great performance. Questions like your Must Play Songs, Do Not Play Songs, Favorite Slow Dances and even Special Announcements can help make sure that the DJ is on top of all of your needs.
You can ask your DJ for a copy of their Music or Timeline form before booking!
MUP DJ's offers a free Music and Timeline Template to help you make the most out of your wedding.
Following these tips will help ensure that you pick the perfect wedding DJ for your special day. Investing the necessary time and energy into the research and selection process will ensure that the music on the night is the perfect soundtrack to your wedding celebration.
Ultimately, selecting the perfect wedding DJ can take time and research, but it is well worth it for a memorable wedding day. With these tips in mind, you'll be sure to find the perfect DJ for your special day.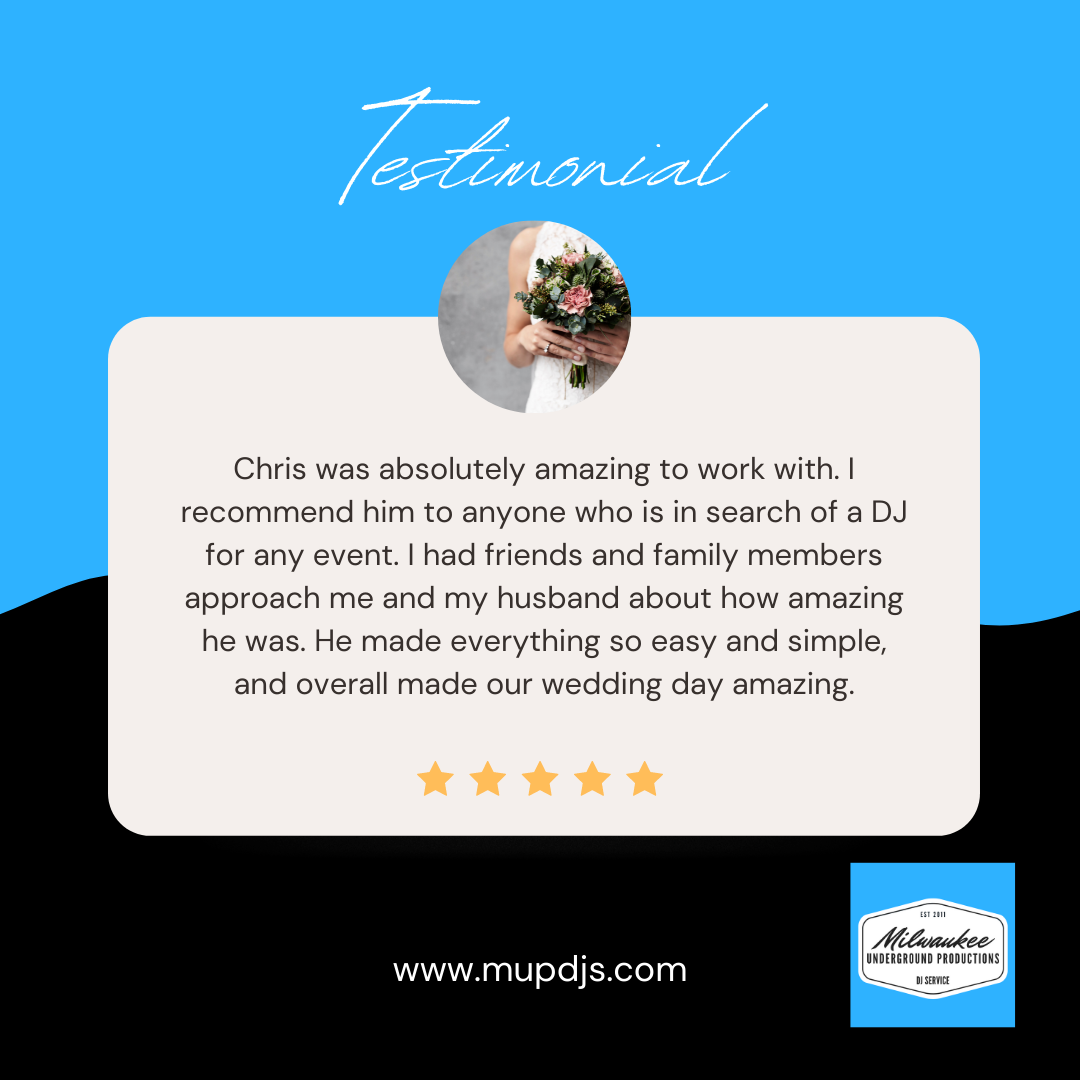 Chris was awesome to work with! We had a zoom call with him a week or so before the wedding to go over our timeline and what we wanted for our music. We had made our own playlist to share with Chris which he respected. He asked us what songs we absolutely wanted, didn't want, if we wanted requests and more. He made us feel confident going into the wedding as our vision was a super full dance floor - which it definitely was! He was fun and kept the music going throughout the night. Chris also was super flexible setting up his DJ booth outside due to COVID restrictions. We would highly recommend Chris for your event!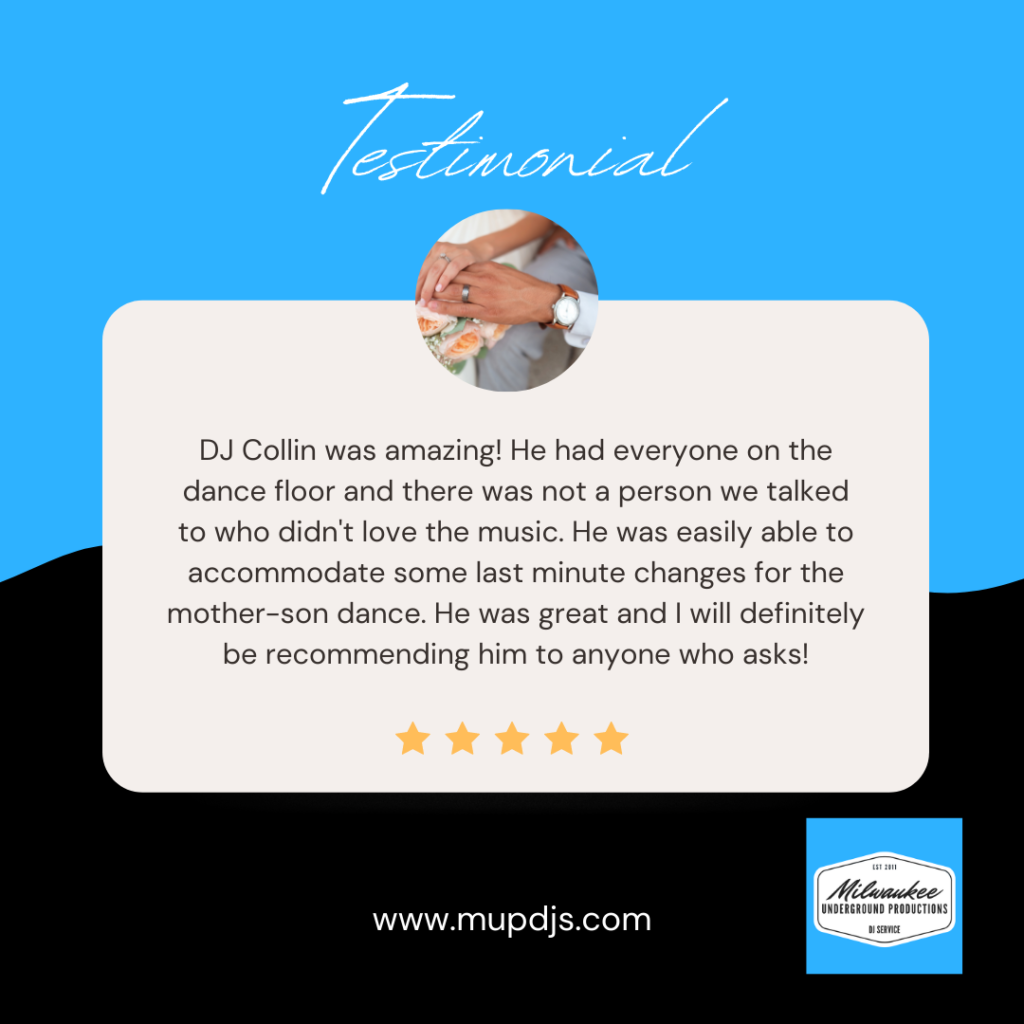 Our wedding was absolutely beautiful and everything went well. DJ Collin was amazing! He had everyone on the dance floor and there was not a person we talked to who didn't love the music. He also worked very well with us to make sure we were happy with the music choices, and was easily able to accommodate some last minute changes for the mother-son dance. He was great and I will definitely be recommending him to anyone who asks!