Best Wedding DJ's | #1 Wedding DJ Company + Photo Booth
Where can I find the Best Wedding DJ's? Right here at Milwaukee Underground Productions! We're an award-winning DJ company that focuses on great customer service!
We're pleased to announce our DJ Company is now:
The Knot's Best of Weddings HALL OF FAME!
2019 | 2020 | 2021 | 2022
Continue reading to learn more about how we won the Hall of Fame, our reviews that helped us win awards, and how you can book the Best Wedding DJ Company in Wisconsin.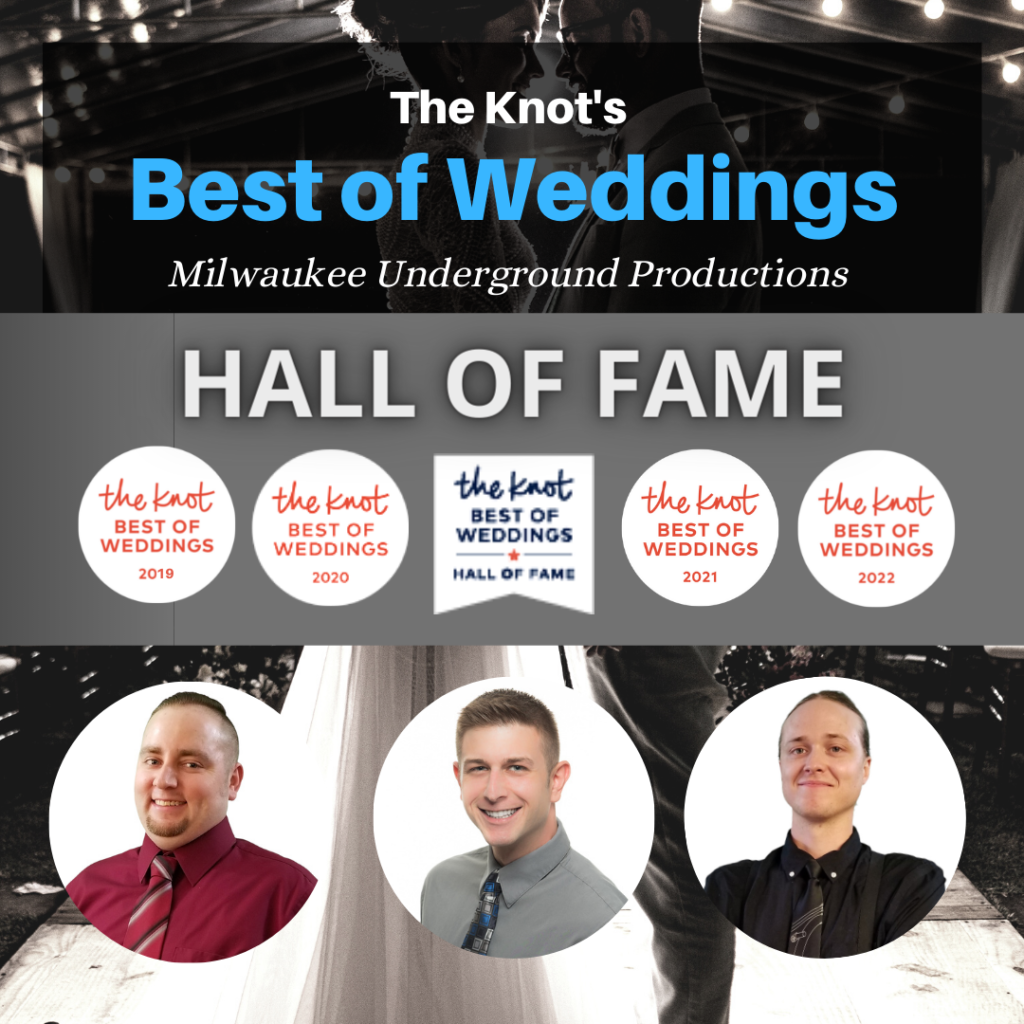 What is Best of Weddings?
Each year, The Knot chooses the top 3-5% of wedding vendors to win a "Best of Wedding's" award. This is based on at least 5-10 reviews from the Bride or Groom. When you're a DJ Service that prides itself on great reviews and customer service, it's no surprise we became a top contender for a Hall of Fame Award!
Wedding Hall of Fame? What's that?
When you win Best of Wedding's 4 years in a row, you now become a Hall of Fame Winner! We're so excited to have earned this prestigious DJ award and want to thank each and every couple who gave a review!
Earning an amazing DJ Review isn't easy, and to do it consecutively 4 years in a row, shows that we care about the wedding couples we work for. We'll continue doing our best to give you a great Wedding DJ experience for years to come. Plus, we just love being Wedding DJ's!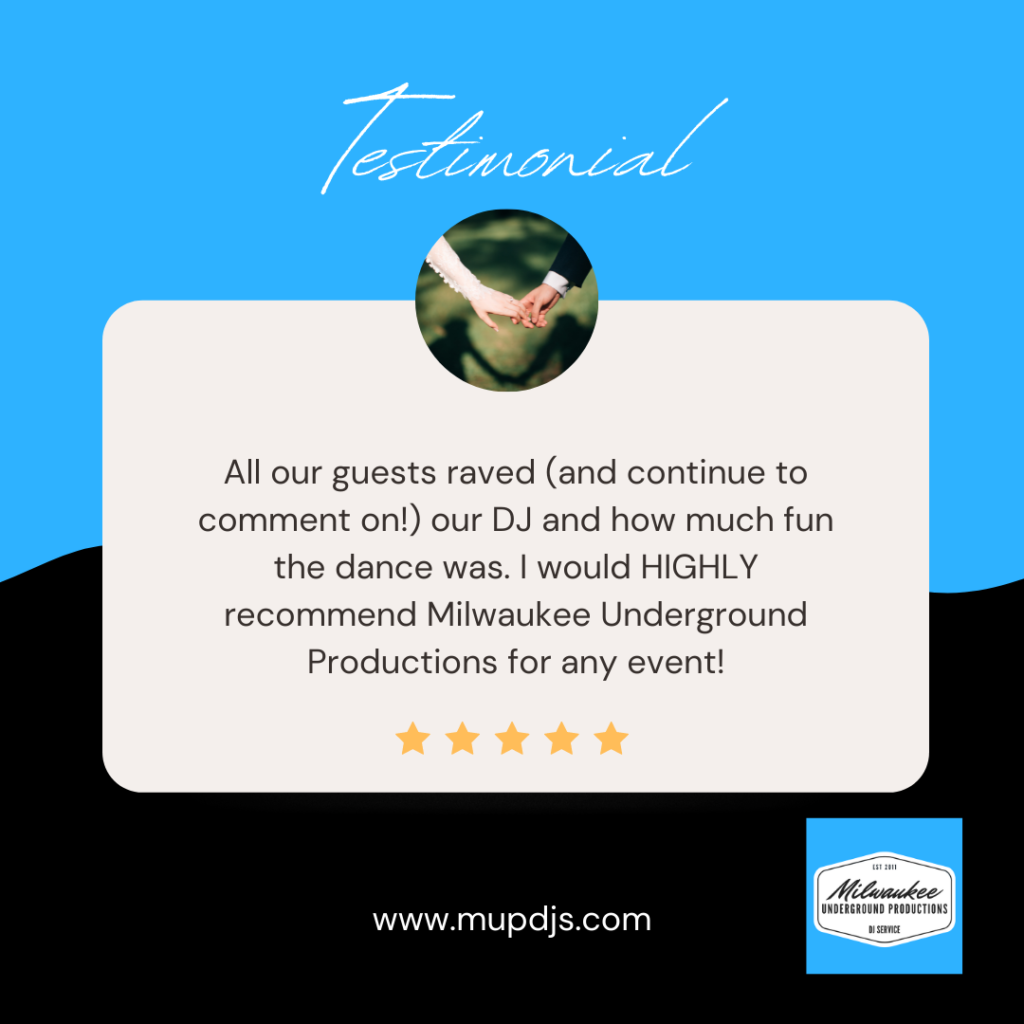 In 2021, we earned over 23 DJ Reviews on The Knot, and over 10 DJ Reviews on Google My Business. In fact, our DJ Company grew to help meet the demand of the busy 2021 wedding season.
Now in 2022, we have over 5 professional Wedding DJ's to help make your special day perfect!
DJ Chris - Best Wedding DJ
"When I started my DJ Company 8 years ago, I never imagined it would turn into what it is today. An amazing team of Wedding DJ's and Photo Booth's that are committed to providing amazing customer service to our amazing wedding couples"
DJ Chris - Owner/DJ - Milwaukee Underground Productions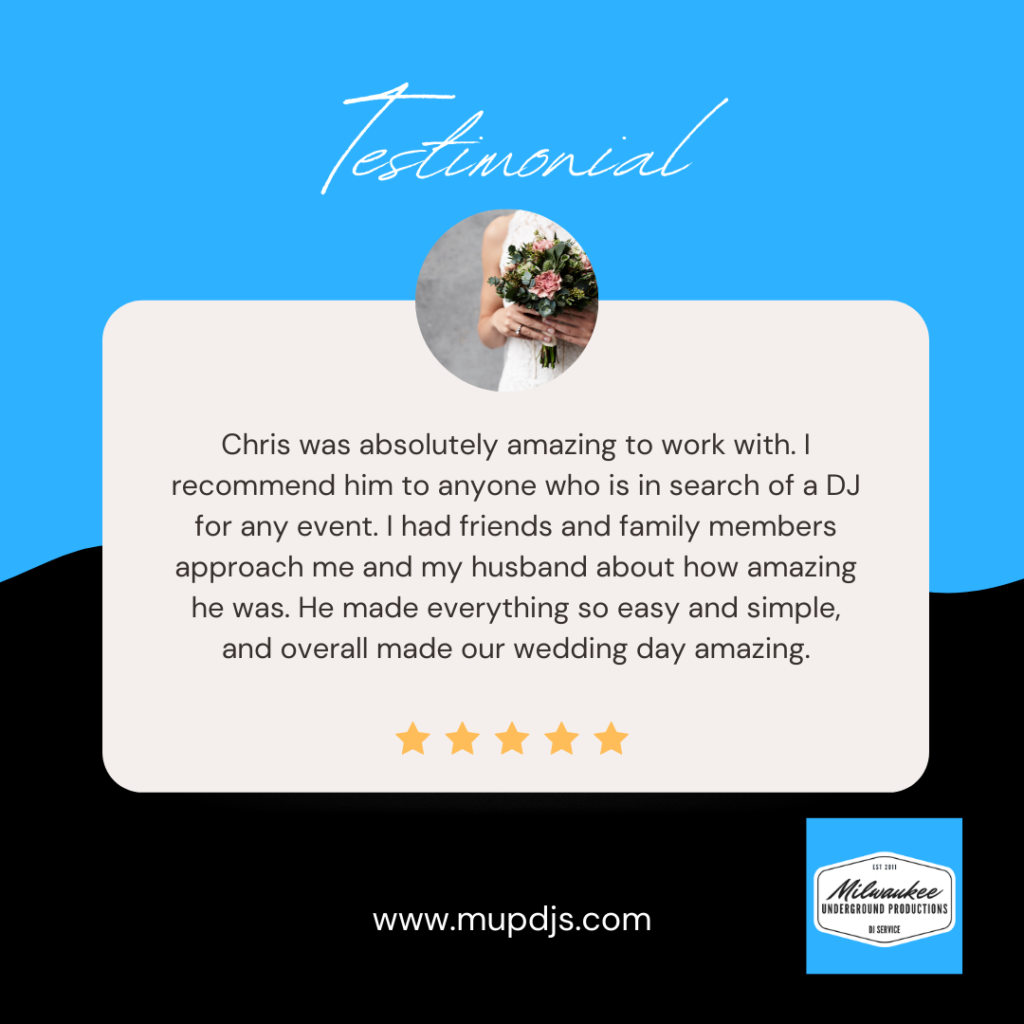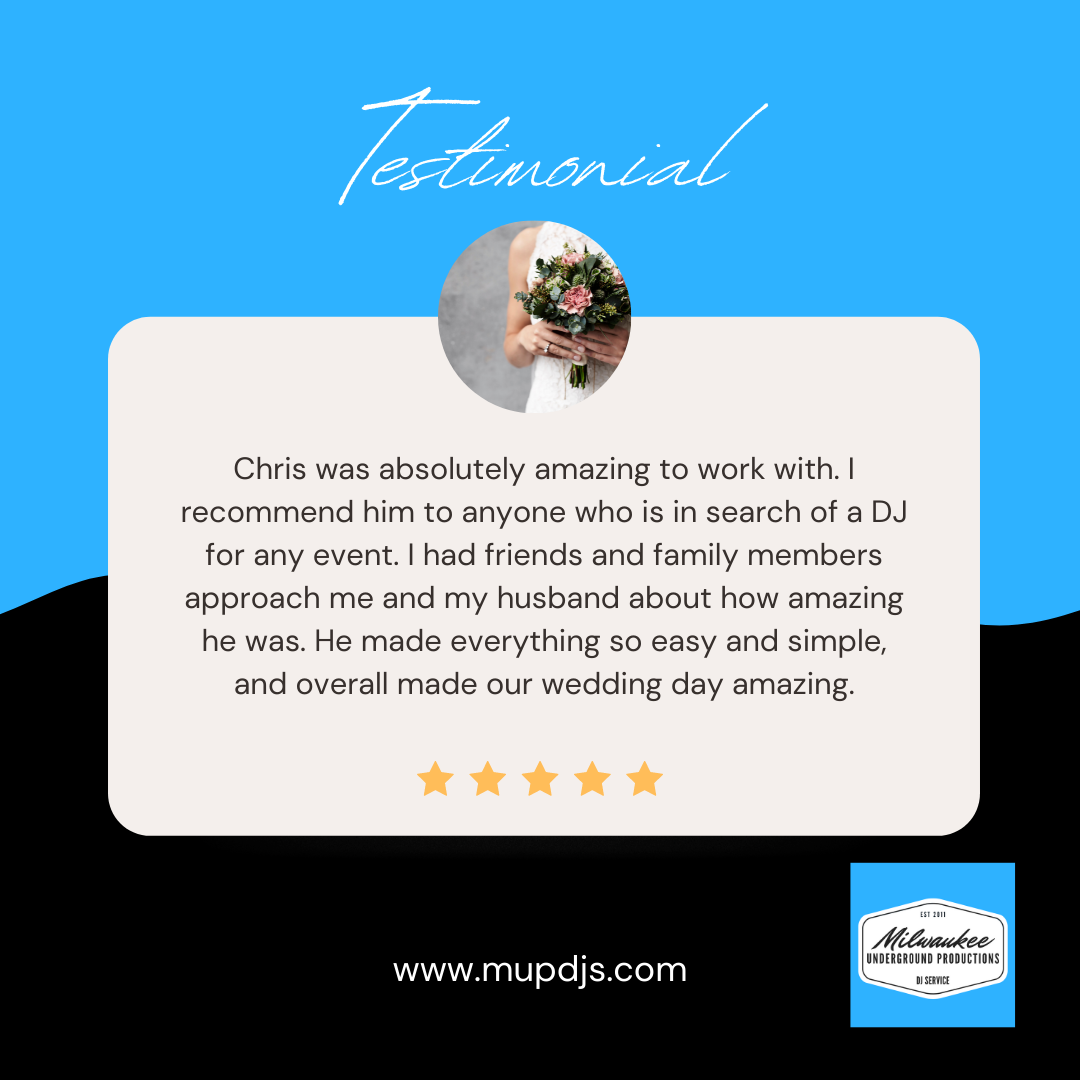 DJ Eric Best Wedding DJ Review
A former On-Air Radio DJ and customer service rockstar. Eric has played guitar since he was 14 and later studied audio production in college. A HUGE asset to the MUP Family, DJ Eric has been earning 5 star reviews for his Wedding DJ and Photo Booth Services since day one. That's why he's one of our best wedding DJ's.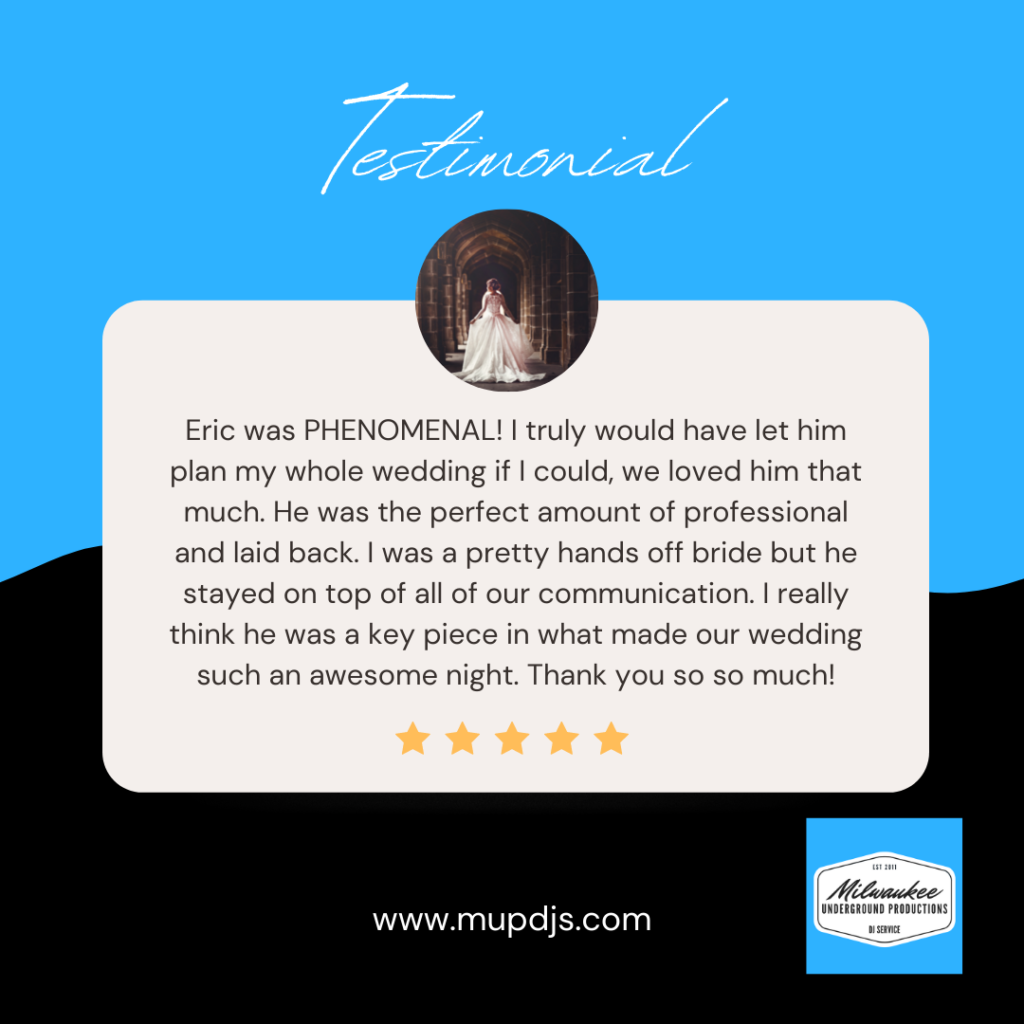 DJ Collin Best Wedding DJ Review
DJ Collin has been a Wedding DJ for over 8 years, plus he has tons of experience in live sound and stage lighting events. DJ Collin knows a DJ's job is to be the conductor of the night. No matter how you choose to celebrate, DJ Collin said that "Love is Love," so celebrate in any way that works best for you and your wedding! Best Wedding DJ? You bet!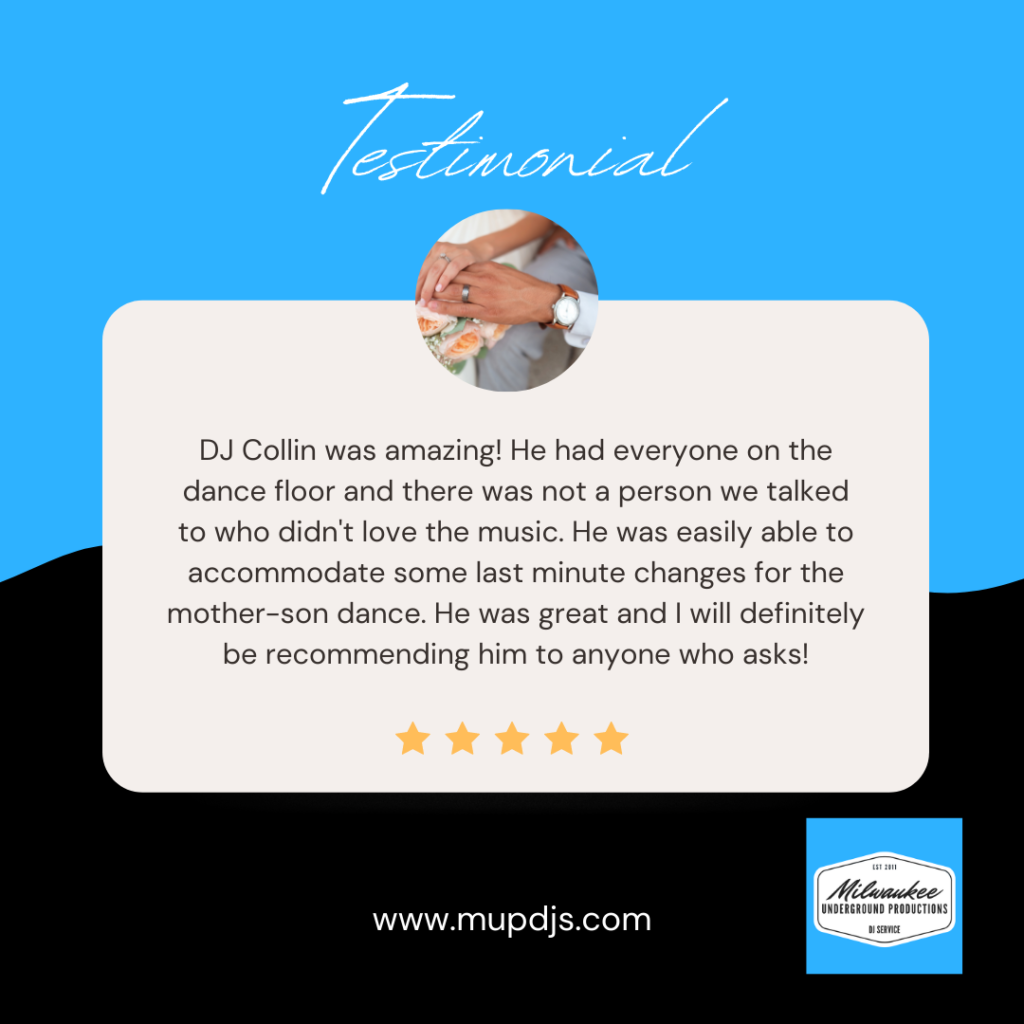 How much is a Best Wedding DJ?
It may come as a surprise to you, but some of our Best Wedding DJ's start at $950, and can go up to $1,500. What!? An affordable DJ Company with amazing reviews and a Hall of Fame Award? It's true!
We're proud to offer great DJ's at great prices. Our DJ pricing model lets you see how much you'll pay in advance, no surprises.
Wedding DJ Price Calculator
Meet our Award Winning Wedding DJ's
If you're ready to check off "Wedding DJ" from your to-do list, get in touch with our team of DJ's today! We're here to keep things simple and easy, with attention to detail where it matters most.
Want to see more of our best wedding dj reviews? Check them out by clicking the link provided.
New Wedding DJ Portal for Clients
What is it like working with our DJ Company? We think you'll like it!
Check out our new client portal below! It's a great way to build a custom DJ Quote, Book a DJ in 15 Minutes by signing the DJ Contract and a $100 deposit, and view our Music and Timeline template for weddings!
Client Portal! (no sign-in required)
1. Build your Custom DJ Quote, with optional upgrades!
2. Sign your Contract and Pay the $100 deposit.
3. Work on Music and Timeline